News article category
Project
Polavaram dam is one of India's most high-profile national infrastructure projects, designed to direct essential water for crops, communities and hydropower. It's also a fantastic example of Keller's ability to collaborate and transfer technologies to offer our clients a truly exceptional solution.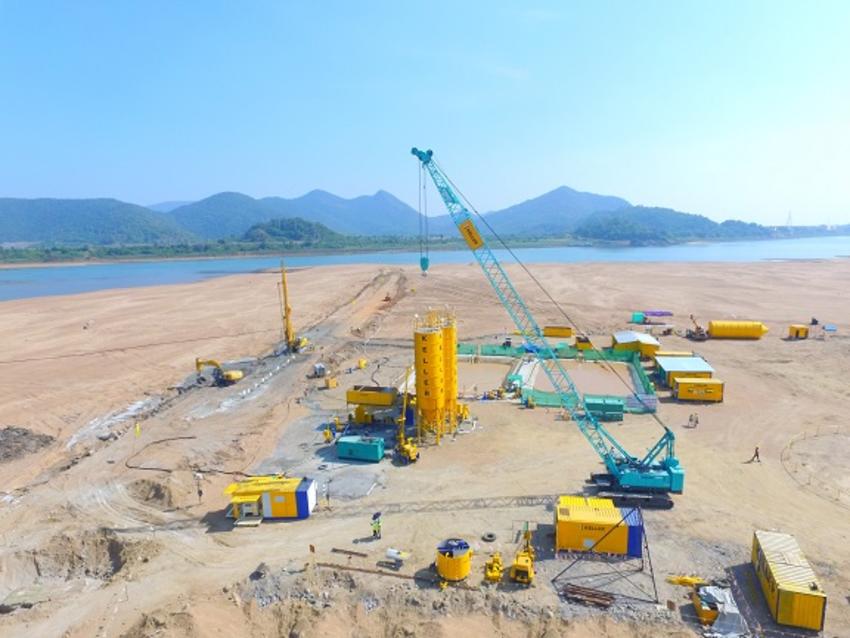 It's been on the drawing board for more than 70 years, but since 2015 the approximately S$10 billion Polavaram dam project in Andhra Pradesh state has been gathering pace. The main dam itself will eventually span the Godavari River. But it's on the two upstream and downstream cofferdams, which will divert water while the main dam is constructed, that Keller India is finishing off a successful jet grouting project.
"Not only have we met the requirements of the client on what is an incredibly important project, but we have also successfully transferred jet grouting technology to Keller India," says Hari Krishna, Keller India Director.
Tapping into global expertise
The business unit was invited to bid for the project last year. Initially a sheet-piling solution was proposed, but this was deemed too inefficient due to practical limitations of depth and seepage cut-off. Jet grouting was suggested as the best alternative option, but the technology was only offered by a few Indian firms on a small scale, so Hari reached out to Keller's jet grouting global product team (GPT) for assistance.
"As a global company, Keller can handle the world's largest jet grouting projects and has lots of ex-pertise in this area, so our GPT was able to help us bid for the job," he says.
Expertise also came from all over the Keller world and included jet grouting expert John Willett and master driller Mark Fellows, both from Hayward Baker.
Over three months last year, the team meticulously planned every aspect of the job: the mix, equipment, safety, training and execution. After they successfully won the contract from client Transitroy, specialist jet grouting pumps were shipped from fellow Keller company Bencor, and Keller's in-house equipment manufacturer KGS supplied the rigs, spares and mechanics. With the site in such a remote location, Keller had to ensure the team had everything it needed on site to keep the programme on schedule.
Keen to learn
John returned to India in late October to support the training and was impressed with his Indian counterparts. "They were so well organised and keen to learn, and that was proven once they got on the job," he says. "They completed eight or nine columns on the first day of production, when they were only scheduled for four."
Hari agrees: "We have around 100 people on the project and all of them have shown a real passion for wanting to learn the new technology as quickly as possible,"
Once everyone was well trained and everything was in place, the team had to work quickly and efficiently to complete everything before mid-June and the onset of monsoon season. In total, the project has required around 110,000m3 of jet grouting over a 3km stretch, in columns of 2m diameter and up to 20m deep.
Creating new opportunities
As the project nears completion, Hari is proud of the way Keller India has handled such a significant and complex challenge under close scrutiny.
"All the works were monitored on a weekly basis by head of state, Honourable Chief Minister Mr N Chandra Babu Naidu, who wanted to personally ensure overall progress," he says. "This project has given us a good opportunity to put Keller India in the spotlight with the media, local authorities and government bodies."
Not only has the business unit added a new technique to its arsenal that will open up more project opportunities in the country, it also won a safety award from the government for its efforts.
The successful transfer of jet grouting to India once again demonstrates Keller's winning combination – offering clients global strength and local focus.