News article category
Project
Keller has an unmatched range of specialist geotechnical expertise that can be shared among local businesses, helping us break into new markets and offer clients a more comprehensive service. A great example of this can be found in India, where our business unit is delivering its first marine jetty project with the support of sister company Waterway Constructions.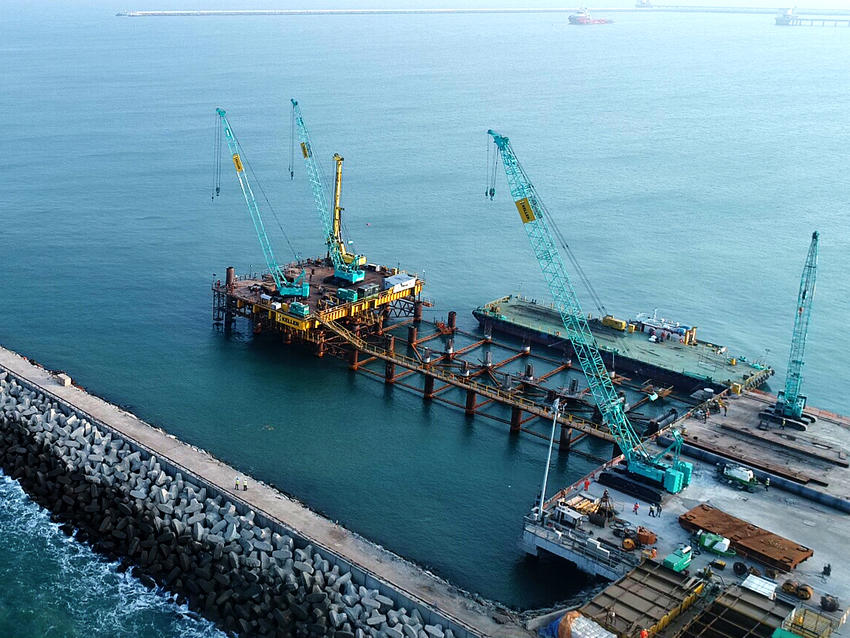 The facility already handles 1.2 million shipping containers a year, but new owners Adani Group want to diversify the cargo and increase capacity by another 40 million tonnes over the next three years.
A critical part of the development is the construction of a new 300m-long jetty for 150,000 deadweight tonnage vessels.
Ambitious schedule
With these ambitious plans comes an ambitious schedule – just 14 and a half months to get the jetty up and running.
Thanks to the power of Keller business units across the world to collaborate, share expertise and provide support, Keller India was able to demonstrate to the client that it had the skills and experience to deliver such a high-profile project.
Driven by Deepak Raj, who led the business unit prior to moving to Keller ASEAN, Keller India turned to sister company Waterway Constructions, based in Australia. There, the team were able to provide critical support before the tender stage. They worked with India's Head of Engineering Madan Kumar Annam and Project Director Ajay Kawlekar, who both have marine engineering experience, to develop a solution that met the demands of the project.
"We created a construction methodology using three temporary gantries – two independent piling gantries and a civil construction gantry – an approach that's unusual in India," explains Madan. "The piling gantries facilitate the installation of the large diameter marine bored piles, while the civil construction gantry follows them to install the precast elements over the bored piles. Through this method we were able to precisely calculate cycle times [the time taken to complete one row of piles] and reassure the client we could complete the project on time."
A methodical approach
The total scope of works is for 164 piles, along with precast elements including pile muffs, cross beams and long beams, and a cast-in-situ concrete deck, 300m long and 40m wide. The piles are around 60m long and require around 200m3 of pre-hydrated bentonite mix per pile. Because of the size of the piles, the permanent steel liners and reinforcement cages needed to support them are too big for the gantries, so have to be transported on high-capacity barges.
Large capacity initial static pile load tests have been carried out in simulated off-shore conditions to prove the quality of the bored piles, as well as a routine high-strain dynamic pile load test. And to ensure the project is carried out to the highest quality and safety standards, the site crew has undergone rigorous training from APAC's HSEQ team.
Half way through the programme, the team is making good progress, despite a couple of on-site challenges, including clearing large boulders and drilling through deep-seated rock, neither of which were anticipated. Madan is confident the team will deliver this historic first marine project on time.
"It's been a steep learning curve, but this is a fantastic project win for us that could open up many new opportunities in what is a fast-growing sector in India," he says. "And thanks to this project we are now building local capabilities, both engineering and operational skills, thanks to the effective transfer of technology from Keller's global marine experts."