News article category
Workplace and people
Colleagues at Keller India are handing out more than 2,000 blankets and warm clothes to people living on the streets in Delhi and Chennai. It's just one of the new charitable initiatives that are part of Keller's partnership with leading NGO, Bhumi.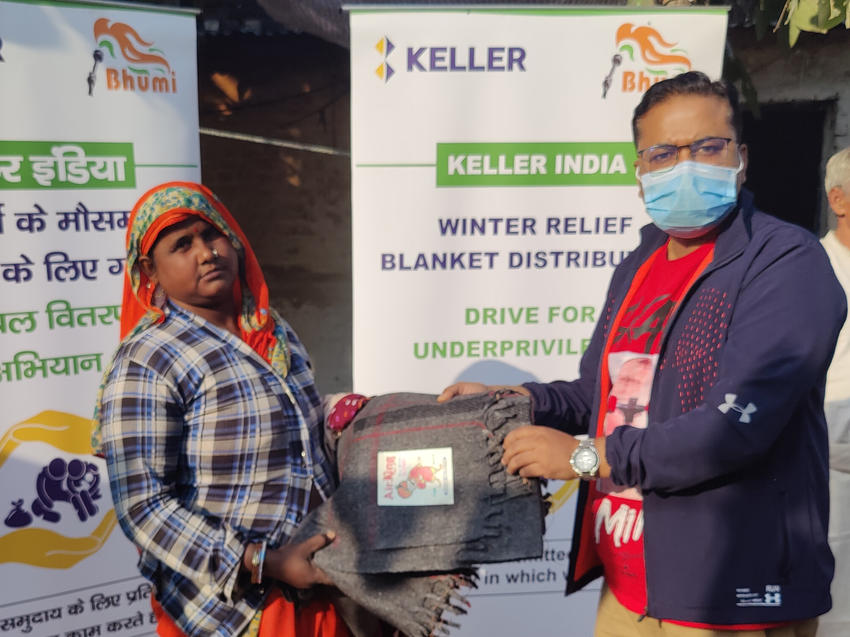 "It's a great feeling when you help someone in need – it fills your whole heart," says Dinesh Kumar Gupta, HSEQ Manager. He's part of a group of Keller volunteers who have spent several nights distributing blankets, coats and refreshments to some of Delhi's poorest people, as they try to stay warm in close-to-freezing temperatures.
"I've been involved in community activities ever since I was a child and I was very excited to take part in the Spread the Warmth initiative," he says.
The blanket drive was a joint idea between Keller and CSR partner, Bhumi – an NGO that promotes volunteering and in particular supports children in need. With Keller funding, Bhumi was able to source the blankets and set up the initiative in just one week. Dinesh played a key role in deciding who would receive the blankets, including those living outside an alms hospital and those in more rural areas near job sites.
Helping colleagues help others
At the time of writing, Keller volunteers were also being recruited to hand out blankets in the south of the country around Chennai. In total, Keller is aiming to donate more than 2,000 blankets and around 300 winter jackets before Christmas.
"As a business, we talk about looking after our own people and keeping them safe, and so this is an extension of that; thinking beyond our own employees to look after others," says Dinesh, who has also planted thousands of trees for Keller as part of its Think Green initiative. "It makes me very proud and happy that Keller gives people the chance to get involved."
"We've done a lot of charitable activities in the past, but now it's very exciting for us to work with Bhumi, because they can guide us on where there's the greatest need and where we can make the biggest difference," adds Barghavi Thirumalai, HR Assistant Manager.
Rewarding and enjoyable activities
For Bhumi, partnering with corporations like Keller is critical for supporting more people and helping it reach its goal of having every Indian volunteer. "We have a lot of volunteers in cities, but organisations like Keller have a presence right across India, including in hard-to-reach rural communities," says Bhumi Programme Manager Sridevi Mogilineedi. "We want to run initiatives that are not only beneficial to people who need help, but which are also rewarding and enjoyable for the volunteers – that's how you convert people to long-term volunteering."
As well as the Share the Warmth initiative, Keller India is also funding several educational scholarships for children of employees or subcontractors who've lost breadwinners to COVID or terminal illness. Volunteers are also involved in educating children to take part in community projects as part of Bhumi's Eco-Champs scheme, and are providing advice and support for parents of underprivileged children with scholarships to private schools.
Any Keller India colleagues who'd like to find out more about volunteering for future Bhumi initiatives can email HR Director Subbu.