News article category
Workplace and people
Keller India has undergone a remarkable evolution. From humble beginnings in a small office with a handful of people, it's grown to become one of the country's leading geotechnical specialists, with over 500 employees. As the business unit celebrates its 20th anniversary and prepares for its biggest year yet, we catch up with Managing Director Y. Hari Krishna and HR Director J Subramanian to chart the rise of Keller India.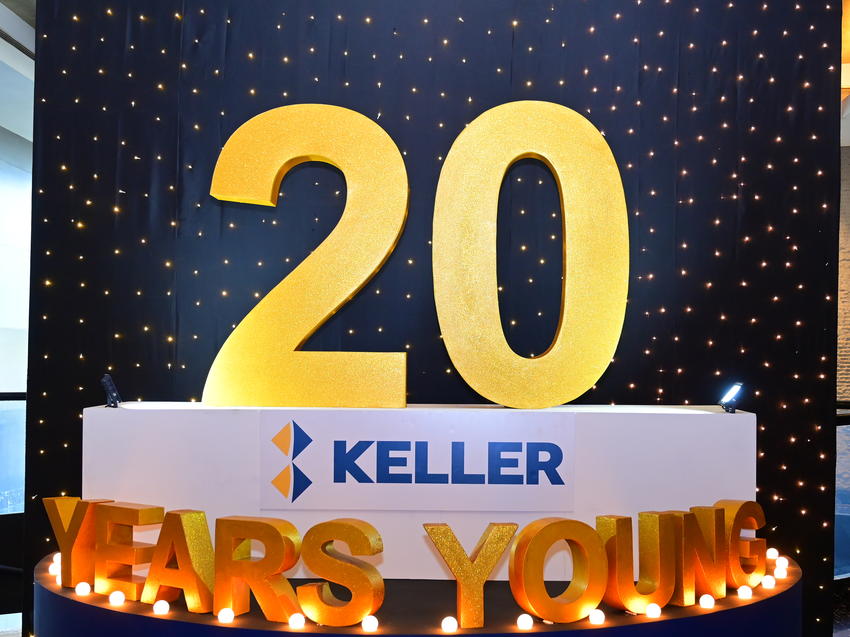 There were awards, gifts, music and colourful Bollywood dances as a cross-section of 100 employees from Keller India gathered in Hyderabad to celebrate the business unit's 20th anniversary.
"There was a lot of fun and positive energy as we recognised people's contribution and looked back fondly at our past achievements," says J Subramanian (Subbu) of the event. "We wanted to recognise people who have worked for Keller India for more than 10 years and highlight notable projects and the teams that contributed to their success. We had a mix of employees from our offices and sites, from different functions and levels of the business, and for those who couldn't be there, we've held local events to ensure as many as possible could be involved."
The AMEA Divisional President Peter Wyton, Engineering Director Jonathan Daramalinggam and ASEAN Business Unit Managing Director Deepak Raj were also in attendance. CEO Mike Speakman joined virtually, and a video charting the company's history was shown. The celebrations were made more poignant by the fact this was the first large social gathering for three years because of the COVID pandemic.
An emotional connection
"There is a very strong emotional connection between our people and the business," adds Subbu. "In our engagement survey, 97 percent said they were proud to work here and that's what we saw at the event. Over 50 percent of the participating employees have been with Keller India for more than 10 years and the celebration was a validation of how much our employees are attached to Keller India."
Hari Krishna was one of the business unit's first employees and today is Managing Director. He recalls how it took several years for Keller to establish itself. "We started out with a handful of employees in the residential apartment in Chennai. Until around 2009, it was quite slow-paced and it took us a while to understand the complexities of the market, working with unions and the bureaucracy in different states. But then we started to get traction by carving out a niche with our vibro ground improvement and grouting products."
A move into new markets
A turning point came in 2010 when they entered the heavy foundation market and secured multimillion-dollar contracts for two liquefied natural gas facility developments in 2014. Not only were these significant revenue drivers, but they also allowed the business unit to expand its repertoire into bored piles and diaphragm walls. Being able to offer both ground improvement, heavy foundations and, more recently, marine jetty construction helped Keller differentiate itself in the market.
Thanks to the support of the wider group, the Indian team now offers a whole range of techniques, has moved into neighbouring markets in Bangladesh and Nepal, and is currently exploring specific opportunities in Sri Lanka.
"In the last few years we've taken the company to the next level," says Subbu. "We've become a lot more structured and process-centric (including the recent launch of ERP MS D-365 system), and have focused on enhancing the employee experience through improved career planning and learning and development. As a part of our career planning process, Keller India has been able to send highly-skilled talent to international mega projects like NEOM in Saudi Arabia." We aspire to be an industry employer of choice in India.
A bright future
"One thing I'm really proud of is our people and the way we've adapted to challenges, like the pandemic and taking on larger projects of greater complexity," says Hari. "We're proud to be not just celebrating 20 years, but also recognising our best-performing year yet in 2022.
"We're in great shape financially, we have a strong sustainable strategy for growth and we're in a situation to be able to say yes to projects that make commercial sense and align with our values.
"We're very happy to be going into 2023 with our largest-ever order book and we're in a great position for the future."