News article category
Workplace and people
It's been a challenging year, but Keller India has continued to deliver for its clients while going the extra mile to protect its workforce. Those efforts have now been recognised with a string of honours from the country's leading construction body.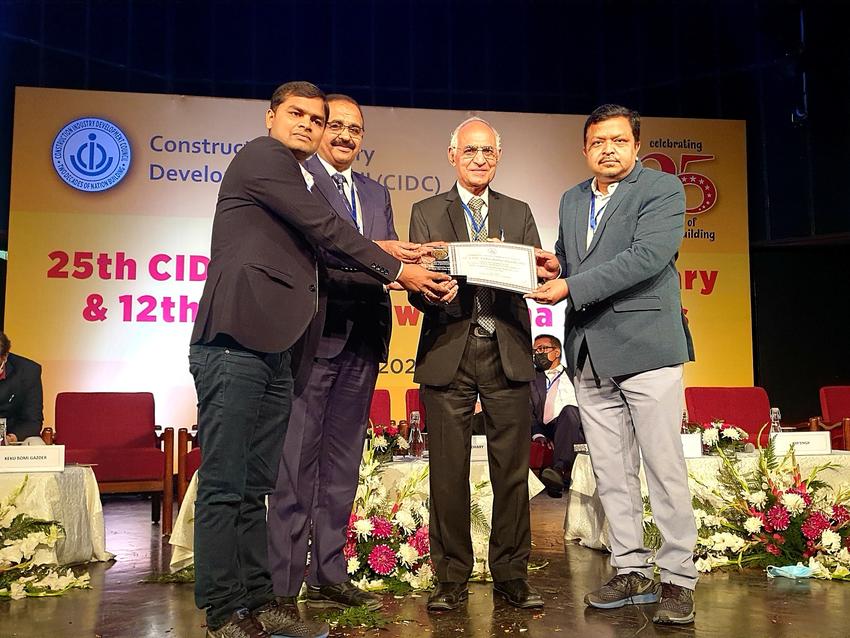 Paradoxically, we pride in, and were rewarded for, achieving a zero! That is zero major incidents in 2020: zero toppled rigs, zero major road incidents, zero positive COVID cases in the past five months, and four million safe working hours. And now Keller India has another statistic to be proud of: three health and safety awards at the Construction Industry Development Council's(CIDC)Vishwakarma Awards – the country's most prestigious construction honours.
Two of the prizes were for HSE achievements on two projects, while the third was the Corona Warriors Award for the company's outstanding response to the pandemic.
Rigorous protocols
India is one of the world's worst COVID-hit countries, but Keller has been rigorous in protecting its employees and agency workers right from its onset. The business unit introduced a comprehensive range of precautionary measures, both at offices and on sites: training, disinfection regimes, regular testing, socially distanced toolbox talks and segregated transportation.
One of the big challenges was that people needed a pass to commute in the absence of public transport. We arranged their passes and separate cars so they could travel to and from the sites safely.
Once on site, crews are provided specially sourced PPE and are distanced from other firms' contractors. Handling of materials is carefully monitored, while cabins, equipment, accommodation and other communal areas are regularly sanitised. People's health is monitored daily with anyone showing symptoms isolated, tested and, if found positive, supported in following government protocols.
Mindful of people's wellbeing
During lockdown, Keller ensured all employees and agency workers at a major oil refinery project in Barmer, Rajasthan, were paid and provided food and accommodation alongside a range of activities for their physical and mental wellbeing. This was one of the reasons for receiving an HSE achievement award.
Keller bagged the third award for its safety efforts on a ground improvement project at Bapatla, where a third railway line is being built along a 13km stretch to Appikatla.
Murali Krishna P, HSEQ Manager, says the eight-month project presented numerous safety challenges. "Working next to a rail line on very loose soils was potentially risky for our equipment. We were also in a congested location with other contractors working nearby, as well as local farmers/villagers passing by and working in nearby paddy fields."
Comprehensive safety plan
The team had a detailed safety plan comprising regular management-led toolbox talks, weekly site inspections by HSE management and HSE committee meetings with the site team. Other activities included safety training, a motivational HSE programme, platform inspections, road safety management, controlled access to the site and strict adherence to COVID guidelines. Keller even organised safety training for local villagers.
With these and many more initiatives, the team successfully completed the project with neither lost-time injuries nor positive COVID cases – winning a separate award from the railway owner.
Employer of choice
India has had alarmingly high number of cases and an arduous task in implementing safety protocols. So, for Keller India to not have a single case in months, while facing a new wave, speaks volumes about everyone's efforts.
For applicants at job interviews, it's not only about the remuneration and the working environment, but also how we, as employers, ensure their safety. Awards - particularly the Corona Warriors Award - prove how far we go to keep our people and agency workers safe which helps to make Keller an employer of choice.