In this project, Keller designed and executed anchors for the retention system for a 20m deep excavation with high differential water pressure (19 meters water head), supported by multi-level anchors (5-8 Levels). This involved installing normal and U-turn inclined anchors up to 90T capacity for first time in Keller India.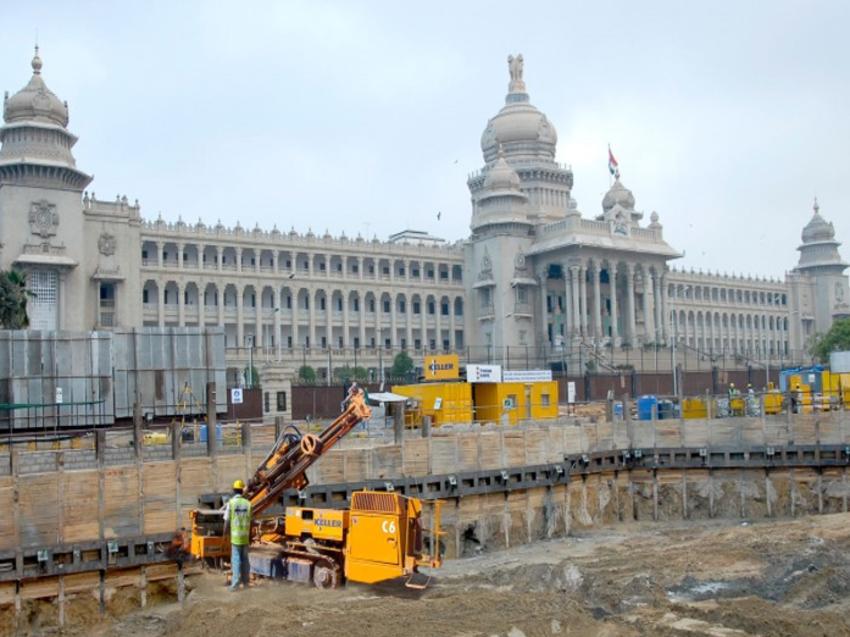 The project
BMRC was developing an underground metro in Bangalore. As a part of construction, underground metro stations needed to be constructed at various locations within the city. Keller was commissioned by the main contractor to design and execute anchors as a retention system for the deep excavation.
The challenge
The main challenge was the design and installation of anchors for the retention system with high differential water head pressure for the deepest excavation of 20m in poor soil conditions. Installing more than 2,600 anchors at various levels in a limited time, collaborating with excavation contractors, was also a challenge.
The solution
Our proposed retention system comprised secant piles/soldier piles with inclined U turn anchors. We designed and installed anchors with a capacity of up to 90T for performance of retention system design. The fixed length of the anchor was filled with various levels of grouting (primary and secondary) to ensure a high strength bond between anchor and soil. The entire free length was covered with PVC pipe to eliminate load transfer and was long enough to bypass the failure wedge.
Project facts
Owner(s)
Bangalore Metro Rail Corporation
Main contractor(s)
Coastal projects Ltd & Soma Enterprise Ltd