Keller constructed a multipurpose marine jetty (300m x 40m) resting over 1.4m diameter deep bored cast in-situ piles including more than 1,000 precast elements and about 30,000 cubic metres of concrete. This was under a challenging time schedule and marine conditions and using two independent piling gantries and a civil construction gantry.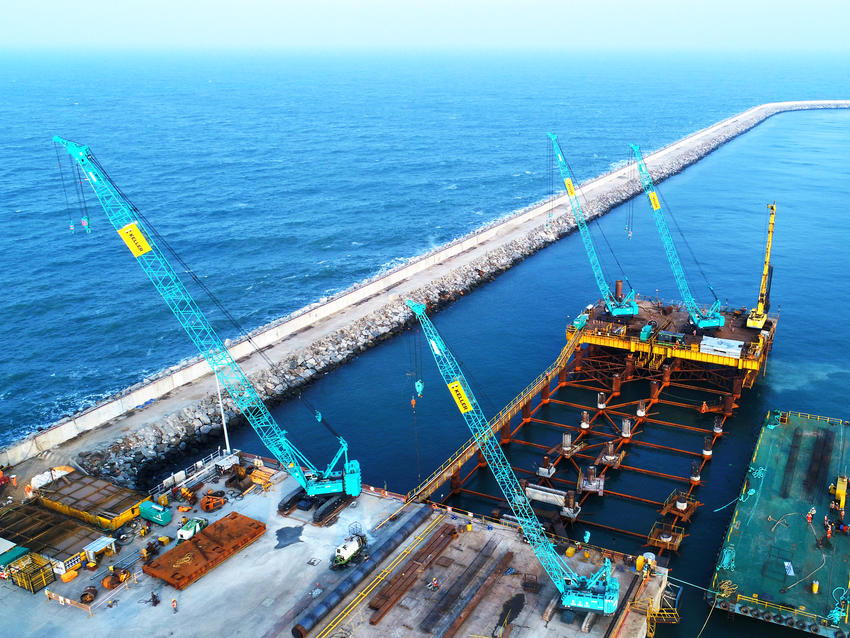 The project
HOWE Engineering Projects India Pvt Ltd decided to expand and modernise the Kattupalli port for bulk and liquid cargo by constructing a third new berth 295m by 40m. The berth caters for handling vessels with a maximum capacity of 180,000 deadweight tonnes and a draft of 19m. Keller India was appointed as the main contractor for construction of the berth.
The challenge
The challenges were to install the marine pile foundation of 1.4m diameter, up to 64m deep; erect precast units with a maximum weight of 28 MT; complete an initial pile load test (around 2900 MT), dismantle the piling gantries and remove boulders towards the breakwater side for the installation of 12 piles.
The solution
We designed and fabricated two piling gantries (250MT each) with a piling rig and crane on top for pile installation. We also designed and fabricated a civil platform for a 250 MT capacity crane for placing precast units and completing civil works. A final 250 MT capacity crane was mounted on a barge to dismantle the piling gantries. A long boom excavator was used to remove the boulders.
Project facts
Owner(s)
Adani Ports and Special Economic Zone Ltd
HOWE Engineering Projects (I) Pvt. Limited
Main contractor(s)
Keller Ground Engineering India Pvt. Ltd.